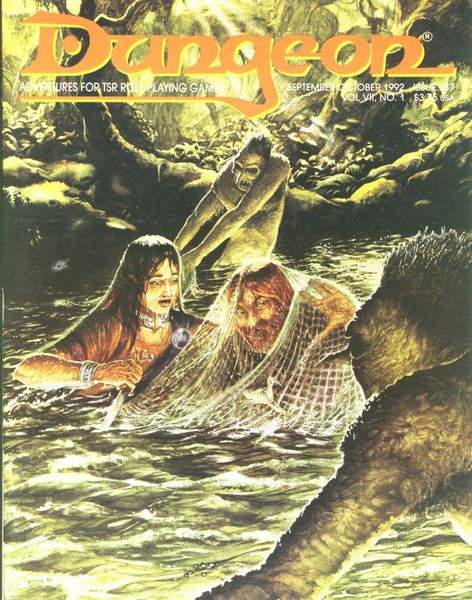 "You tell me: 'Life is hard to bear.' But if it were otherwise why should you have your pride in the morning and your resignation in the evening?
Life is hard to bear: but do not pretend to be so tender! We are all of us pretty fine asses and asseses of burden!"
― Friedrich Nietzsche, Thus Spake Zarathustra
This marks my second step on the long, winding downward stairway into madness, which only one has walked before me, in search of hidden gold. If I am to burden myself by wading through the dregs of yesteryear then let submerge entire! Dungeon 37 is an overall very good issue with most of the adventures falling into the downright usefull spectrum. The cumbersome format and lengthy introductions start to weigh on one as a millstone round the neck.
Serpents of the Sands
AD&D 2e
John Di Cicco
Lvl 6 – 10
A quintessentially 2e adventure, what is essentially a classic S&S premise (some guy gets whacked by serpent men trying to retrieve their amulet) is ruined by a convoluted premise that does its utmost to sap all the wonder out of the setting and succeeds magnificently. Wizards offering their services in building wizardlocked vaults, Captains of the Guard meeting the characters in Restaurants, Scrying failing to detect the fleeing murderers because of the 'intereference generated by the ruins'. Wretched. Why not go all the way. 'The high level cleric was unable to scry the murderers because his scrying-service provider is not available in desert areas'.
If you skip the entire lead-up and move straight to the trek across the sands in search of ancient serpent men temples you are better off. There's a nice random encounter table with some nomads and oases that can be negotiated with which makes it feel more like an expedition proper. The temple proper has its share of flavorful scenery (pillars carved in the shape of entwining serpents), the use of traps and secret doors, prisoners you can free and monster tactics renders it a cut above the brainless slog fest that I have come to dreadfully anticipate and I dig the Oriental flavor of the Yuan-Ti in this one. The tone is dark and sinister, entirely appropriate for such a classic foe, and fondly reminiscent of ancient Valusia and the Snake Cult from Conan the Barbarian. If you turn the entire first section into a series of rumors and strip the premise of all its modernist baggage you can have yourself a decent S&S adventure, replete with Nagas, snakes, serpent men and all manner of snake themed horror. And for godssake: Captains of the Guard meet Adventurers in disguise in wineshops in the bad part of town because he is not sure who else might be a serpent man, the cult was ancient since before the first stone of the town was laid etc. etc. etc. **
A Wizard's Fate
AD&D (Forgotten Realms)
Christopher Perkins
Levels 1 – 3
A pleasant surprise, the High-fantasy True-Crime premise makes me curious to see what follows, rather then nauseous and tired. An unabashedly evil wizard pulls all kinds of evil wizard shit; love potioning merchant's daughters so he can blackmail them, selling poisons, brewing elixers of madness etc. etc. The infernal powers recognize his street cred and send him an imp familiar. He feels underappreciated, gets disenchanted with a life of evil, falls in love and prepares to leave his life of crime behind. His familiar notices, spikes some of his potion reagents and the tower explodes, leaving only the dungeon below. Begin!
Wizard's Fate is a charming 15 room dungeon pitting wet-behind the ears characters against an intelligent opponent with invisibility, a poison sting and immunity to normal weapons. Effective use of foreshadowing should clue the characters in that they should be on the look-out, but as written I can't see this one end without several characters ending their life getting euthanized while they lie paralyzed by the many traps. The use of a pressure-plate activated stone to seal off the entrance, with sufficient room for the Imp to sidle through is particularly vicious, even if it does reset after a day.
The dungeon proper feels like a proper wizard's lair. Figures on the wall come to life, weird glowing orbs, magic doors that require magic keys, illusions of demons, iron cobra's with command words etc. There's a circle where you can lure the imp and cast a unique banishment spell that feels classic though I think the foreshadowing could be better here. Another irritant, a set of three magical doors bars characters from the final treasure trove but using the wrong member of three keys triggers a trap. There is no means by which the characters can determine which of the keys is correct. Bullshit.
This one is going to be very difficult depending on how evil the GM plays the central antagonist, but it meets my criteria of something you could run as is. The Forgotten Realms setting is perfunctory. ***
The White Boar of Killfay
AD&D 
Willy Walsh
Levels 3 – 7
A winner. The usual Dungeon sin of atrocious disregard for flavor is absent here. In the battle of Kilfay, the appearance of a great White Boar causes consternation and the death of both a senior elf and the King's son. The King calls for a hunting party, but no native man will take up arms, fearing it is sent by the gods. Thus the party.
This one rocks. DnDish elements are seamlessly woven into the background, making everything feel fresh. Our band of would be heroes is quickly introduced to the elves, and these are PROPER MUTHERFUCKING WOOD ELVES. No tree-hugging hippy boomers these. Poisoned arrows, Broken Common and blindfolded escorts into their nomad camp. They have tracked the Boar into A PLACE OF EVIL WHERE THEY WILL NOT GO.
The adventure proper gets everything JUST RIGHT. A point-crawl through a dark and haunted forest, replete with cursed plants and monstrosities, trolls under bridges with nets of ensnaring, most of which can be avoided in some clever fashion, leads to a wizard's burg and barracks atop two Crannogs. Note the use of period-specific terms and the commitment to flavor in the form of setting appropriate encounters that persists throughout the adventure. What could have been a brainless fight instead turns into a compelling mystery as the characters discover that things are not as straightforward as they seemed, with the Goblin camp also denuded of inhabitants and signs of the dreaded White Boar serving as a reminder of looming menace. There should be a name for this type of WHF low-fantasy adventure that mixes combat with social situations, stealth, investigation etc. etc. There's unexpected elements too, like the opportunity to use a Carpentry proficiency to disassemble and move some of the Ballistae that are used to defend the now abandoned fortress, or the introduction of the Wizard's magically locked Safe that should prove quite a chore to disassemble.
An irritating note. This adventure is written like a mystery play for the GM so the reveal of what is actually going on only comes at the last moment. While this might make it more EXCITING to read the adventure it also possibly prevents you from viewing the purpose of some of the elements thus introduced until the surprise reveal. Don't do that. The GM needs to know what is going on so he can run the adventure as effectively as possible.
The actual reveal is hinted at admirably and should make for an epic climax, for once the use of a set piece showdown should not feel forced and is impregnated with mythic overtones. A messenger of the Gods clashes with a properly abominable monstrosity, born of wizardly arts. If the adventure is completed successfully, the King's reward of a three day feast, followed by the granting of a limited wish by the power of the Kingstone, is suitably epic. Reminds me of a Spahn module. ****
Their Master's Voice
AD&D Sidetrek
Rober Baker
Levels 2-4
An asshole wizard robs people using two infant leucrotta to impersonate children calling for help. He holes up in an old dwarven keep. Elaborate random encounter that should end in bloodshed. Little hints of social dynamics between the wizard and his pets are mostly wasted in this format, which will likely end in straight up murder. A good side-trek would present some sort of dynamic situation or interesting choice. This ain't that. **
The Mud Sorcerer's Tomb
AD&D
Mike Shel
Levels 10 – 14
The legendary champion who leaves only fire in its wake. The phrase 'inspired by Tomb of Horrors' is a byword for dread and anti-fun in the hallowed halls of the OSR, and many a group of neckbeards has been lured into joyless pit-trap filled save-or-die laden slaughter-maps, held at the mercy of random chance, to die infamously in cheap knockoff meatgrinders whilst a ghostly Gygax looks on with dissapointed disgust. Today we speak of an exception, a masterpiece that is whispered of in hallowed halls by those few knowing ones who have plumbed its bejewelled and ornate depths and emerged hollow-eyed and strengthened by ordeal.
Mud Sorcerer's Tomb has gorged deeply on S1 and WG4 and produces something that captures the essence of ToH without ever falling into vulgar pantomime of that hallowed and legendary dungeon. A righteous 20 pages of thick, at times barely comprehensible traps, tricks and secret doors, 36 rooms total, each one devious and dangerous and wonderfully unique. Building up to a climax that is wondrous and fantastic in a way that few modules can approach, MST is a rare gem, falling just short of a genuine masterpiece.
An ancient sorcerous cult of water and earth once spread its reign of terror across the world, when the religions of the world fell into chaos. When all was put back in order they were expunged, but not before their most powerful members could construct their tombs, where they could lie in deathless stasis, awaiting the proper time to return. The tombs were guarded with perilous traps, but also hints to aid their followers in enacting their return, to be used with other hidden knowledge, now expunged.
Before we get to the meat and potatoes, Mud Sorcerer's Tomb has no small amount of aids that help one to comprehend this beast of a module. Tips for handling traps of sudden teleportation, illusions and hidden saving throws. There is some shitfuckery with Tomb recommending you preroll saving throws if the PCs object not knowing if they have to make a save or not, which is bullshit. The GM is not there to trick the players, participation should be voluntary and the game should be transparent.
The various keystones and assorted tossfiddle that is used to pass its numerous obstacles are outlined in a helpful sidebar. Additional maps are provided to make sense of its more complex rooms. This is all excellent stuff, that does not take away from the HIDEOUS FORMAT of Tomb. Some rooms stretch out over more then a page in narrow columns and are rich with information, to the point where quick absorption becomes difficult, even with proper headlines and labels. Note-taking is a virtual requirement when tackling Mud Sorcerer's Tomb.
Tomb mirrors its spiritual predecessor by imposing all manner of conditions to make it impossible for characters to tackle the dungeon in high level fashion. While this imposition is more restrictive then that of tomb, it also betrays an understanding that is not as deep as that of Gygax. There is a blanket ban on any sort of transport magic that would allow characters to circumnavigate obstacles but no such ban on etherealness, easily one of the most potent effects one can use when scouting a tomb. Curiously, Divination magic in Tomb is crippled but not banned outright, rendering it even more difficult then its predecessor. So powerful is this ban, that even if you manage to get a Speak With Dead in the dead only say "Augh! Why dost thou disturb my dark sleep? Thou dost thread upon ground that will claim thy eternal soul mortal! My mistress will destroy thee utterly!" If you are going to ban shit, at least do so with flavor and daring.  This shitfuckery continues into the dungeon, where Shel will frequently nerf or otherwise fuck with your abilities if he feels that this is warranted, case in point, the odd fucking 1 in d8 secret doors or a lady awakened from stasis protected from initial attacks while she stands up. There's also a few 'this item loses its dweomer upon the death of yadda yadda' which I always considered a dick move.
As a counter-point, Shel puts more effort in the research leading up to the discovery of the tomb, and works out some rumors and arcana that can even end up being useful to the adventure proper. This helps emphasize the stronger atmospheric element to Tomb of the Mud Sorcerer, which is a gloriously opulent mishmash of East-Asian influences crossbred with water and earth elemental themes. It is a veritable delight, and FEELS exotic and ancient, compared to ToH's demure and restrained nature.
The opening puzzle, an innocuous riddle, somewhat sets the stage for the puzzle-heavy nature of the dungeon that is to follow, but in no way prepares you for the brutally lethal nature of some of the traps, which in many ways makes MST far more difficult then Tomb of Horrors. ToH basically lets you know it is going to be a complete nightmare from the very get-go. Once you hit room 4, you and Tomb of Horrors are under no illusions as to your relationship. It is there to destroy you. Mud Sorcerer's Tomb starts off coyly, with a cute riddle and a hall of marble pillars and pools with nothing dangerous in it, before happily sealing off the tomb behind the characters, beyond hope of escape until they complete it. Hope you brought enough rations my good sir, it says gentlemanly. You have create food and water, you think, and continual light, so surely this cannot be as bad as it seems. The next room is covered with screaming eyes that weep acid from the walls, somewhat of an obstacle but there are no random encounters so figuring out how to proceed is not time sensitive. A terrific room with horrible animal statues and all manner of puzzles and secrets that must be puzzled out before one can continue. This is going to be fucking cool, one thinks, as one dispatches a cat-headed statue wielding a Nine-Lives Stealer. Puzzle heavy, dotted with unique foes, this is going to be awesome! one still suspects. Riddles aplenty, far more then in ToH, and I just had to use diminution to pass through the nostrils of a stone face so I could open it from the other side. The first section is admirably nonlinear and has only one or two genuine death trap moments that are all but impossible to predict, introduced in the heavenly harp-choir of this glorious masterpiece with a deafening bang before retreating once more. At about 1/3rds, death traps are introduced liberally and with a bombastic fanfare and the Tomb introduces yet another one-way teleportation to the second section.
I said that MST might be harder then ToH and I believe this to be true for 2 reasons. MST locks itself behind you, forcing one to complete the dungeon in one running without obtaining new henchmen, equipment or other magical components, and 2, MST does not follow the rhythm of ToH. ToH begins very hard and ramps up that challenge, keeping one constantly aware of its lethality. MST plays coy and starts throwing death traps with gleefull abandon halfway through, foreshadowed by cryptic hints and interspersed with illusions, puzzles and straight up combat with a menagerie of colorful foes. Hill giant mummies, animal-headed clay mummies, ancient priestesses revived from Temporal Stasis, it is all good! ToH is consistently treacherous, whereas MST maintains a bipolar attitude of helpful benevolence and relaxing puzzle-solving interspersed with brutally lethal traps requiring immediate response, at times courteously forewarned via cryptic riddle or playfully pantomimed with plentiful illusions. Yet there is as much opportunity for TPK in MST as there is in ToH.
The Tomb climaxes in a beastly vault of a room, with approximately nine hundred parts, complete with a fucking artifact land-boat straight out of Elric and nine billion death traps, some merely powerful glyphs, some bizarre like a banner that turns into giant Amphisbaena. The bossfight proper seems strangely out of place, a straight up fight with some powerful elemental guardian, unique and colorful like all the rest. Where I think this falls short is that in ToH fighting Acererak felt like a true final exam, an application of everything that had come before magnified to its extreme. The boss fight and subsequent final reveal in Mud Sorcerer's Tomb is exciting and wondrous but ultimately  strangely anticlimactic. In its final moments, Mud Sorcerer's Tomb remains inscrutable.
Obviously this is a terrific dungeon, lethal and exotic, and filled with plenty of oldschool tricks and traps that can be tailored to one's own dungeons if not used as is. I appreciate the subtle thematic nod to Tharizdun and the cult of Elemental Evil, and applaud its unique encounters, custom magic items, ornate scenery & flavor and clever traps. Yet something of the precision and deliberation of ToH is missing, and it does not wholly transcend its forefathers. Nevertheless, a compelling, ambitious work, brimming with creative energy that I can heartily recommend. I am not sure if one should use it before ToH to get everyone into fighting trim or afterward as a palette cleanser for these now super-heroic dungeon crawlers. The High ****.