[Megadungeon]
Stonehell Pt. I; Down Night-Haunted Halls (2009)
Michael Curtis (Three-Headed Monster)
Lvl 1 – 5+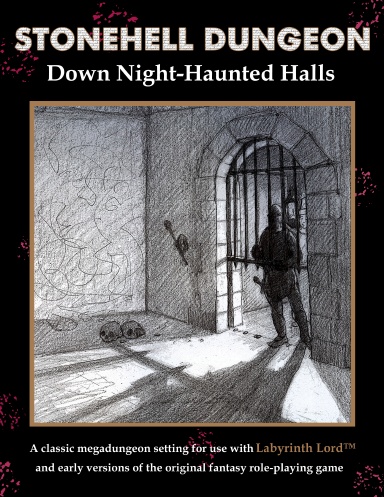 Beware All Who Enter These Benighted Halls of Stone. Within Lies No Solace Nor Any Comforts of Home. Toiling For Our Crimes We Must Dig Where We Dwell, With No Freedom or Mercy In Our Vast Stony Hell.
– Message carved above the entrance to Stonehell


At last.

There is a dichotomy between the module and the campaign that is undeniable, more so today then perhaps in the olden days. The module now; an intricate work of diverting craftsmanship whose contents can theoretically be slotted in anywhere, whose arrival is without precedent and whose departure is, mostly, without consequence. The contents of the greatest of modules leave the performance of any single GM's home campaign in the dust yet lacks the staying power, the profundity of accumulated sessions of organic growth and so the two remain only somewhat reconcilable.

There is one format that perhaps attempts to reconcile them better than any other, that of the megadungeon, the module as campaign, a device that harnesses all the power of dozens of hours of prep-time and meticulous play-testing while eschewing any linearity or other such abominations of that pretender to the campaign, the adventure-path, whose name will not be mentioned in these hallowed halls.

The Megadungeon as the old-school concept is unique in that it represents a sort of El-dorado or Tesla's Earthquake machine, a format that is simultaneously the oldest and most primordial, yet one that never saw publication in fully realized form during the lifetime of old D&D, and arguably not thereafter. All we got was joke versions of Gary Gygax's original Castle Greyhawk, the occasional exotic side-level or hint, and Ed Greenwood's Lugubrious Undermountain Boxed set, whose three page room descriptions are too formidable even for seasoned reviewing Gods. All this adds to the mystique of the Megadungeon as campaign and has caused it to become enshrined in the mythos of the OSR. Part of the OSR is a return to the Well, and you don't get more Well then Gygax's little brown books.

Which brings me to Stonehell. Stonehell is an immense, labyrinthine megadungeon, 10 floors, 4 sections per floor, 30ish rooms per section, the first half of which is covered in this supplement (700 rooms?!?). This is my first review of a megadungeon so it is hard to compare it with anything else. It is monumentally, immensely, overwhelmingly D&D Incarnate. The tips and tricks of Gygax's megadungeon are here made manifest. A single floor of Stonehell is larger, more complex and has more variety then many entire dungeons. I cannot help but feel as if my first choice is an excellent baseline for the megadungeon format, and that others would pale in comparison with its glorious immensity, but as we go down the catalogue, perhaps this one too will be usurped by even greater things.

Stonehell began as a vast prison complex, hewed out of a mountain by the enemies of the Sterling Potentate, and watched over by a vizier with designs of social experimentation. Eventually the reign of the Potentate is cut short, and most of the prisoners released. Some had gone missing within the depths, others were so far gone that they no longer wished to leave. A century passes, with myriad inhabitants clawing out a territory within Stonehell's cavernous immensity. Hobgoblins, myriad cults, some brought with the prisoners, others newer, an eccentric wizard persuing dreams of immortality, all these and many many more have entered the place from above. Other, darker things have been unearthed by the digging, and are slowly solidifying their hold upon the infinite black corridors. Welcome to Stonehell Bitch!

It is often that one hears a boast of a place that is too vast to ever explore fully or to have something that can easily sustain an entire campaign (a proper long campaign, 30+ sessions or years worth of play) without growing stale or repeating itself but it is another thing entirely to behold Stonehell in its immensity. The first part details only half, five floors, subdivided into four quadrants, each with a distincitive theme, a different random encounter table, and the whole connected through elevators, teleporters, stairs and secret passageways, with room left to expand further as the GM sees fit.

The one-page dungeon format, rightfully scorned in the more civilized corners of the OSR, is here utilized to maximum potential. Spending a paragraph or more on each encounter as per a traditional module would render Stonehell entirely indigestible. Instead we get intricate, nonlinear maps, dotted with secret doors and a generous helping of traps, a few noteworthy features that require more elaboration in the forms of multiple paragraphs, and the rest terse evocative description like so.

8. Cadaver Storage: Fresh humanoid corpses; linens & chemicals; rat-chewed door. Giant Rats (10). Under a flagstone are 3,000 sp & 2 gems (25 gp each). Kobolds store corpses here to trade with the Gentlemen Ghouls (see Level 4D).

The power of Stonehell is seldom in any single memorable encounter, though there are many instances of weirdness or awesome encounters with fearsome inhabitants to be sure, but in the way the encounters accumulate and build up over time. Let me give you another example.

33. Big Eyes: Sounds of work from area #34; 10' tall human faces with oversized eyes carved into the walls. Empty

Simple yes? But every empty room is given furnishings, and sometimes treasure is placed in rooms that are not visually or thematically interesting. The effect is to create a sort of seamlessness, where all rooms are potentially interesting and might have some hidden treasure or feature that provokes exploration.

The teachings of the master are preserved in this labyrinthine edifice and observed, almost to the letter. Almost everything that a good megadungeon should have is present. Factions? Psaw! Puh-lease. Of course it has factions. But the factions are not included mindlessly but exist in a sort of eco-system, from a medusa information broker to a Kobold bartering town that exists as a sort of neutral ground WITHIN the Dungeon proper. Checkpoints manned by powerful creatures that extract a toll on those going down. Information brokers. Factions and tribes sending out exploration parties into other parts of the dungeon. THIS is the power of Stonehell. Each quadrant fits into the history of the whole, making it feel like a living breathing place.

Traditionalism is neither flaunted nor scornfully cast aside. Instead it is observed where appropriate, to proclaim wholeheartedly that yes, this is in fact DnD, but innovation is introduced confidently and seamlessly. This is why the beginning is so good; You enter the broken gatehouse, rummaging through mostly empty rooms of rotting timbers, fighting giant rats, scavenging rotting equipment, encountering the odd cave bear or green slime…and it's good. It's damn good. It starts out as fucking traditional as it can possibly get, but it immediately sets some precedent; There is a statute there of an unknown saint, what does it do? Pray to it and find out. There are already multiple means of getting down to the first level, a path leading up the canyon to a bandit camp (detailed in a later supplement, but of course easily omitted), caves higher up, a section of caverns you can explore, secrets you can find. And it hasn't even started properly.

This traditional template is perfect because any narrow theme is going to wear tremulously thin over the course of dozens and dozens of sessions. Instead each quadrant has its own theme and things going on. As you get lower things get gradually freakier, and Curtis starts throwing in some unique inhabitants among the Ogres, cannibal inmates, goblins, kobolds and undead that make up the meat and potatoes of the dungeon. Minor innovation, some new variant of dangerous beetle, is gradually expanded to include all manner of nasty beasties. The unique inhabitants of the Temple of Pain on the fourth level or the almost entirely unknown bestiary on a level that is basically a runaway hothouse with living plants and deadly spores and a thorny dryad queen worshipped as a goddess by the hideous toadstool people running it are particularly memorable, to say nothing of the lower level given over to the degenerate man-eating descendants of the original prisoners. Asylum level? Check! Halls of two-headed folkloric mountain trolls, complete with 7 int, easily befuddled, turn to stone if hit by sunlight? Yup! Ancient race of possibly supertechnological primordial descendants of all the demi-human races? You bet your keister! Memorable NPCs? Fuck yeah! The reality distorting power of the thing that lives on the lower levels is gradually making the dungeon stranger and stranger as the PCs descend. Yet the whole is executed with a charming level of verisimilitude, from the odd midden heaps, latrines or food caravans to the Obelisks of Air that replenish the air on different levels of the Dungeon.

The longer campaign format allows for rewards that are vestigial at best in the traditional format. Discovering the purpose of strange shrines to gain a spellike benefit makes sense if expeditions must take into account multiple hours of travelling down hallways to lower levels. One of the most enigmatic and powerful places, the Sanctum of the Plated Mage, will surely be discovered long before it can be fully penetrated and utilized. Likewise, few rewards in this format can be as welcome as discovering AN EXIT TO THE SURFACE, allowing one to bypass dozens of random encounter rolls as one slogs tiredly down stairways, trusting that the GM has neglected the use of the generously provided Dungeon Restocking Tables.




I mean look at it. LOOK AT IT. It's majestic. It's grand. It could absorb the entirety of the Barrowmaze into itself and add it as a sub-level and you would not notice. The power of the dungeon as campaign is not just demonstrated but displayed with a confidence and a lack of pretension that is laudable. This is really a spectacular effort at recreating an old legend of the oldskool that was not to be and all the more impressive because it was one of the earlier ones.

You will even find the odd Gygaxian FUCK YOU encounter. They are rare yes, perhaps too rare but they are there, probably in numbers sustainable for a long campaign. There is just something about a shaft with 3 Gargoyles in it on the 3rd level or a door that says 'DO NOT OPEN' in multiple languages that warms my blackened heart, although the Save or Die is conspicuous by its absence. A seasoned and cautious party should be able to make admirable headway in Stonehell, fools obviously get stepped on. The one exception is a particularly brutal section of the fifth floor, which traps the players and essentially makes them re-enact Ravenloft only stripped of all equipment and with the gypsy lady replaced by a mad Dwarven Ghost and Strahd by a Zardoz homage. Its one thing to throw save or die traps on the first level just to illustrate that this will be a world of pain (Stonehell doesn't), but its actually far more brutal to throw a curveball at around the fifth level, when the players should have settled into a routine.

This section ends with a random table of room and container furnishings in case the GM might need it, contents entirely appropriate to the rest of this spectacular work. Unassuming, but VERY useful, EXACTLY what is needed to add a bit of spice to the odd empty room if the GM needs it. There is not a hint of showiness in this thing. It's all meat, no gristle. Perfect.

I'm tempted to go straight for a homerun and just give the damn thing Five Stars but I don't know enough about megadungeons to really have anything to compare it with. For now I'd put it at a high Four Stars and come back when I can compare it to Dwimmermount, Maze of the Blue Medusa and Castle Xyntillian. Still has more ideas in it then any ten *** modules.

****

[1] If I am not mistaken the original Rappan Athuk predates Stonehell by a few years at least. Fight On! Published a megadungeon serial that would tragically never see its lowest level and Barrowmaze was not truly a megadungeon on the scale of these other Titans.