[Adventure]
Dusty Door (2018)
Shane Ward (3 Toadstools Publishing)
Level 3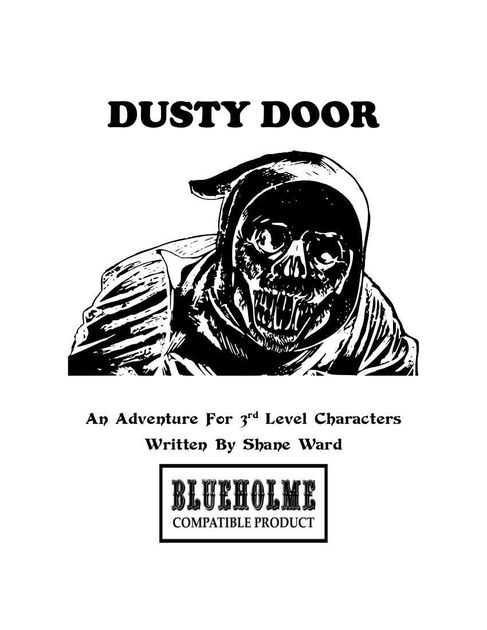 Disclaimer: Sponsored Content
A while back I reviewed Shane Ward's The Mad God's Jest and found it not to my taste. I was approached by him again very respectfully and asked whether I would consider reviewing another one out of the kindness of my dutch heart. Dusty Door is one I am proud of, said he.
I think it was Gabor Lux who explained he doesn't bother reviewing a lot of homebrew stuf he buys because they are so clearly passion projects and nothing can really be gained from driving a stake through the heart of someone's darling. I think it goes double for submitted material, since you almost get the feeling you owe someone something. I enjoy, viscerally, tearing into something flawed made by a supposed professional with a reputation for excellence and a chip on their shoulders (i.e someone who should know better) but I gain far less satisfaction from savaging something amateurish but harmless by someone who just loves gaming. Today I am glad I won't have to grapple with these issues because I actually like Dusty Door.
Dusty Door is a pretty simple 12 page adventure (6.5 if you discount the cover, credits and OGL) for Blueholme [1] with half a page of hook and a 10 room dungeon. Shane explains his fondness for the small dungeon that can be polished off in a session or two and though I will readily admit preference for lengthier fare, if only because it is easier to review, I have seen my share of short adventures that were damn fine.
The premise is something out of a fable, immediately recognizable and engaging. An inn run by an old gnome with a sign that says "adventurers wanted." The gnome lures the adventurers into the dungeon underneath his Inn with promises of a gateway into the Underworld and untold riches. In actuality it is the domain of a demon, who grants the Gnome potions to extend his lifespan in exchange for fresh victims. It's charming.
Which is not to say it is flawless. Dusty Door is very much a throwback dungeon, made in the archaic fashion with a certain disdain for verisimilitude. The map is reminiscent of 1980s Rogue, a series of square rooms connected with various branching passages. For a 10 room dungeon it IS admirably complex enough for players to circle around or otherwise evade enemies (LIKE THE TROLL) and I like the use of a hidden secret door to find the Demon's treasure hoard even after he is defeated. It's classic, I can't stay mad. I think the comparison with Rogue is mainly caused by the Troll, the dreaded Troll [2], who is encountered on the wandering monster tables. The wandering monster table contains a Lost Adventurer, which is cool, but its easy for him to be encountered in between two occupied rooms, which might require some GM legerdemain in order to smoothe over.
Each room is essentially an Island. What sells it is that some of the rooms are GOOD ISLANDS.
The room smells of mould, spider webs cling to the walls. A full deck of cards is
staked individually to the floor by 52 silver daggers
Yes!
The door to the room is ajar; the room is unoccupied. A large dark stain occupies most of the floor. Upon the western wall is a terrifying mural drawn in feces and blood. A stone well filled with a black liquid is below the mural against the wall.
Yes! (also Kent?)
A small old crone sits near a pool of bubbling black water, she holds a wooden stake
in her hand, her eyes have a faint purplish glow. The western door to the room is barred from the inside.
And so on. It's charming and wicked. Which is not to say this adventure is easy. A 3rd level party will be hard pressed to defeat the final boss (the demon Orneum, a rat with elephant ears and a schorpion tail) with a powerful regeneration ability and a coterie of Imps in a straight up fight. Fortunately there are ways around it, allies to befriend or a secret method of the Demon's destruction to be found.
A lot of rooms have something going on. Doors sealed by magic, environmental effects like purple slime or poisonous smoke. It feels more like a game dungeon then a real location but it is at least a fun game dungeon, and the unreality can be woven into the fable-like atmosphere of the whole.
It would be pretty easy to gripe where exactly the goblins get their food (I assume the Gnome throws it down the stairwell) or where everyone poops (I did some thinking and concluded that the only possible place could be the gateway into the Abyss in room 8). Likewise, I don't really get why Orneum needs to physically drag corpses into Hell when it is the soul that they are after but these details are actually rather trivial to the overal adventure.
A few spelling errors aside, the writing is clear without being verbose and the information is presented clearly. Effects that should be noticed outside the room are given well in advance.
Treasure is about on par for level 3, a considerable portion is hidden. Mundane treasure is standard, magic items are mostly adventuring hard tack (sword + something, scroll of healing, bag of holding) with a wand of anti-regeneration being a welcome new addition. This could have been beefed up a little, but since the rest is so elegantly basic making everything unique would probably detract from it.
This is a nice little adventure, ideal for a con-game or a one-shot, that packs a considerable punch for its weight class. There is something about it that immediately translates it into late 90s 2e deluxe DMG art in my mind. The door with chanting and smoke billowing under it, the room with 52 cards spiked to the floor.
There is a random table with atmospheric effects.
8) Wallowing Moan.
It is good stuff. The demonic elements remind me of Deadly Power, like a haunted house or a campy horror flick. That's what Dnd needs more of. Quick and easy dungeons and campy Satan.
Shane Ward. Consider yourself redeemed. Thank you for sending this to me. 6 out of 10.
Check it out here: https://www.drivethrurpg.com/product/234962/Dusty-Door
Suggested price is easily worth it.
[1] Retroclone Holmes Basic DnD.
[2] I played Rogue for a pretty long time but I never managed to beat it. Many were the runs that ended at the hands of that accursed 'T.' A troll for a 3rd level party is pretty rough, which is why I love it that it is encountered SLEEPING in front of a door.
Another element reminiscent of rogue is a bunch of randomly colored potions.