[Adventure]
Tower of the Stargazer v2 (2014)
James Edward Raggi IV (Lamentations of the Flame Princess)
Lvl 1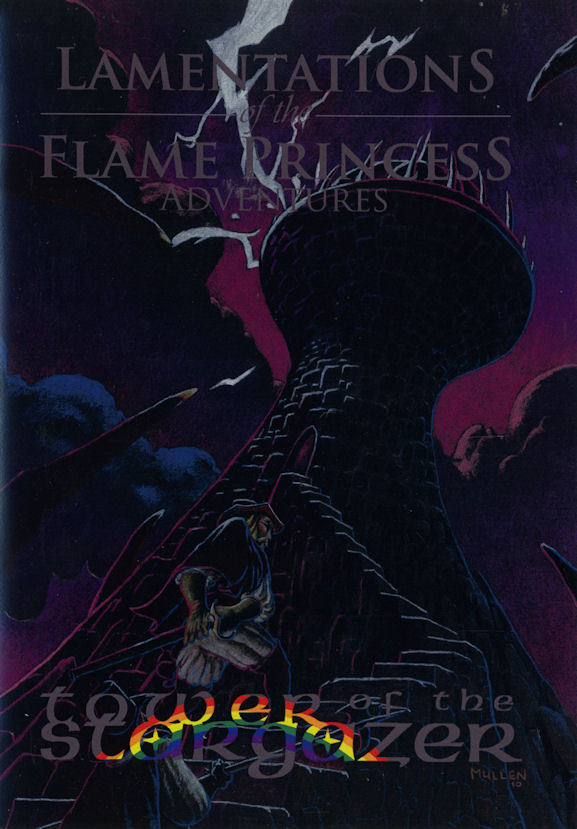 Tower of the Stargazer was one of the first OSR adventures I've ever reviewed. I have run it more then any other adventure I know. I rated it very highly then, but over time my perspective has changed until it no longer matches what I thought then. Now comes the great Revision.
Tower of the Stargazer for Lamentations of the Flame Princess is James Raggi's signature adventure meant to introduce both new players and GMs to the rules and spirit of Lotfp and concerns the exploration of a five-level wizards tower. It describes the tower of the mysterious stargazer, and is filled to the brim with weirdness, nonlinear exploration and deadly danger. It was when I ruminated on the notion of Tower of the Stargazer after my review of B1 that I realized how POOR Tower of the Stargazer does in comparison, what AWFUL PRECEDENTS it sets for new players and how CRIMINALLY UNSUITABLE it really is as a starting adventure.
Raggi himself outlines the design goals:
– Be simple and easy enough to work as an introductory adventure for new players
– Be challenging enough to be an enjoyable adventure for experienced players
– Be an example to new Referees about how to design and run adventures
I propose we examine Tower of the Stargazer from the stated design goals and determine its success or failure thereby.
Be simple and easy enough to work as an introductory adventure for new players
Verdict: Failure. 
In my five runs of Tower of the Stargazer, I have had witnessed only one unqualified success in completing the adventure, which was under multiple respawn conditions, allowing players to roll up a new character the second they died and have him enter the dungeon as soon as he was completed. Another (comparatively experienced) party managed to actually slay the freed Wizard despite his invulnerability to normal weapons by a combination of grappling, cloth and fire.
There are multiple challenges that can quickly kill or disable a group of 1st level characters, which has had no experience with the game and thus no opportunity to form the strategies, routines and heuristics that allow them to survive such challenges when they are more experienced. They have no frame of reference. Tower of the Stargazer explicitly punishes players for fiddling with shit, kills them randomly or pits them against opponents that they cannot face. For experienced players that it fine, since they have had a chance to develop caution. For newbies? A fucking death sentence.
Before I start tearing into TotS, let me emphasize that it is by no means a bad ADVENTURE. Au contraire! For experienced players it is actually a GOOD and challenging adventure. The first challenge, a blackened field occasionally struck by lightning caused by the gigantic lightning rods of the tower is actually SCRUPULOUSLY fair. Players can use common sense to protect themselves and are punished for unthinking stupidity in an area that is clearly telegraphed as dangerous. That's great.
Then the shit begins. The adventure introduces a SAVE OR DIE trap on the first door of the game. If you use the handle instead of the knocker, it turns into a snake save vs poison or die! ARE YOU SHITTING ME? How many players did that get? (It got 2 actually,  one of those in conditions where respawns were not available, forcing that player to sit it out like a chump). How many people know that that is even possible?
I will give the module credit for enabling nonlinear exploration…but subtract points again because it does not ENCOURAGE nonlinear exploration. A trapdoor leads to a basement floor below with potions, but unlike the wonderful pool room in B1, drinking any of these potions just mutilates the player character in ways that make it unlikely the player will even want to continue with it should he survive, with the exception of the shrinking potion that is needed to escape this shitshow of a traproom [1].
The idea behind this section is that its a fake treasure room meant to dissuade explorers and in an ironic twist it does just that, albeit at one narrative level higher then Raggi originally anticipated. While experienced players might be able to catch on to this so called 'rationale' behind certain rooms, in truth the placement is largely arbitrary and there is no real reason why a sane person would construct a carefully concealed deterrent to looters hidden behind a door in his house when the intruders in question are much more likely to follow the main route into your living room, gain access to your elevator, and make their way to your precious laboratory and treasure room, having to bypass only 2 aging servants and one enchanted door (1d6 damage, excellent trap btw, blood dripping from the lock kicks ass).
Add a chest trapped with a poison needle, a corpse with a brain leech (a.k.a a rotgrub), a prison that immediately dumps 4 incorporeal murder ghosts with 50% hit negation on the party. This trend is cynically continued throughout the adventure, where the majority of creatures encountered by the party seems too formidable for a gang of 1st level players recently introduced to the magic world of roleplaying?
Speaking of super-challenges, let us take the trapped wizard Calcidius, yet another example of an encounter that works super well for experienced players but is punishing to the point of brutality for newbies. This encounter is better then the aforementioned save or die traps because the trapped wizard will in fact quickly betray his seemingly benevolent ruse after a few moments of indecision, his insanity is foreshadowed in the diary of his presumably murdered servant on the preceding level and anyone familiar with the game (that is to say, not newbies), should be able to infer the Wizard's vast ability as well as his impotence from the situation alone. The problem still remains that the price for a single questionable decision is essentially a TPK, with the dungeon becoming unassailable if the heroes manage to flee (there is, after all, a 13th level wizard in it).
So why can't I run my first session like Dark Souls Prince? Why can't I play Darkest Dungeon in Lotfp? Actually, you might have noticed that both those examples have an eminently easy tutorial section that quickly familiarizes players with all the basics of the game so that whatever may follow, the challenges presented to the players are somehat FAIR. You aren't being thrown to the wolves and expected to pick it up in the fray. Tower of the Stargazer goes full pull right out of the gate. Even if you are a bit of a hardcore gamer, the problem is that DnD is not like a game because PEOPLE HAVE TO SCHEDULE A FUCKING DAY IN AN ALREADY TOO SHORT WEEKEND TO GET TOGETHER AND FUCKING PLAY IT. DON'T WASTE THEIR FUCKING TIME WITH YOUR SAVE OR DIE BULLSHIT IF THEY DONT KNOW WHAT TO FUCKING EXPECT.
So what happens if you already know DnD and you play Tower of the Stargazer?
Be challenging enough to be an enjoyable adventure for experienced players
Verdict: Succes.
Stripped of all its gotcha moments, a veteran crew can get an eminently good experience from Tower of the Stargazer. It would not have half the problems it did if the target audience is different and genre savvy. A genre savvy party, aware of the existence of poison needle traps, suspicious of the signs with "treasure" pointing into a room, confident enough to push through in search of reward (which is certainly forthcoming if one is sufficiently patient) and will probably get a kick out of the occasional fatality and constant attacks from oblique angles that TotS delivers.
Stripped of its introductory status, the subversive nature of Tower of the Stargazer works to its advantage. In an era of hand-holding, railroading set-piece battles, it must have seemed like nothing less then a godsend. Its creatures are off-beat necromantic horrors, ghosts, animated blood, a ghost that challenges you to a game of chance!
The nonlinear exploration element is perfectly implemented, and for all its flaws the biggest strength of Tower remains that it is VERY easy to run with only minimal note-taking required while retaining a satisfying sense of the unknown and the wonderous. Strange tomes, a telescope leading to a planet with alien life teeming with alien life, vivisection labs, it all forms a strange, off-beat semi-whole. A section of mirrors that can grant either weal or woe! This is the good stuff.
Part of what makes Tower fairly memorable is how deliberate it is. There is no element of grind. All the obstacles and hazards have been placed with a reason or to instill some sort of lesson. The problem is that some of those lessons are terrible.
The final treasure room really cements the tower as a challenge for veterans. It is designed to be FRUSTRATING by revealing the treasure but placing it outside the reach of the players, protected by switch-operated forcefields. It is a FAIR challenge because sufficient exploration and persistence will eventually lead to success. It is a frustrating challenge, not a fun challenge, but the end result will validate the effort. Players without the already instilled pavlovian response to the description of treasure will likely give up or become frustrated to the point of surrender or retreat.
Be an example to new Referees about how to design and run adventures
Verdict: Failure
This last verdict comes with an asterisk. Tower of the Stargazer has some very good aspects to it that make it educational. There is a little box of text that explains the rationale behind each decision, object and item of treasure placed therein so the GM may easily assimilate the underlying lesson and extrapolate from thereon out. Many of these lessons are actually very good.
The use of interesting red-herrings. Means of arbitrating ambiguous situations. The strategic use of non-interesting rooms. A proper means of bypassing an obstacle where the key is located under the door it goes in (which I found to be another example of Tower of the Stargazer getting it RIGHT).
The problem is that some of the advice and some of the lessons it instills are terrible lessons. Some of them are explicit. There is an immensely complicated Telescope that takes quite some time to figure out and can eventually be activated. What happens if you stand under it? You get transported to another planet and eaten. That's fucking horrible. You WANT players that are motivated to explore and to gather clues. The fucking crowning set piece, the most complex room in the game, kills you if you figure it out?
I ran Carcosa for a 20+ sessions. One of the most memorable things a player once said to me was that he'd figured out that whenever I'd throw something interesting at the players at the players they would usually be punished for fiddling with that. Once he said that I immediately started baiting my hooks better. Its like a gentleman's agreement between PCs and GM. The GM makes interesting shit that is fun to explore, the PCs explore it. The Danger is added to add yet another thrill, and to keep people on their toes.
In addition to punishing players for exploration, by both the telescope, the basement trap room and too many of the rooms (it is unjust to say that ALL exploration is punished, just too much of it), it instills another cruel lesson, that of arbitrary or seemingly arbitrary death. The save or die trap at the start, the telescope (which can again be discovered, but by studying a book for 2 days), the rot grub, 5 in 6 chance of surprise save or die Stone Spider…there is too much of this. Players are allowed to expect some forewarning or attempt to defend themselves before you start killing off their characters.
There is an unpleasant element of cruel humiliation to the adventure, as though it was a module made so the GM may laugh at the helpless dolts who bumble through it. It can be mitigated somewhat by allowing for multiple respawns, but this merely renders it facile and without weight. Potions that render your players toothless, incontinent euneuchs, Telescopes that send them to be devoured by alien plant creatures, treasure that lurks tantalizingly beyond reach. A whiff of the sadistic shines through the otherwise colorful veneer.
Tower of the Stargazer is a wolf in sheep's clothing: perfectly suitable to spring upon an experienced party that has kicked the shit out of many a carefully constructed GM's labyrinth, having lost many a beloved character on the cold stone of some buried hellhole before the light in their eyes is dimmed and their hands are sure and steady. Killers will bark with the harsh laughter of Cthonia when yet another one of their number succumbs to some awful wizard's trick, stripped him off his gear and moving on in search of plunder and rapine. To the starry-eyed virgin Dnd Player it is a menace, a trench-coat wearing pervert luring one into a rusty van with the promise of free candy and delivering only molestation and broken lives.
If one were to spend one's time chronicling the rise and fall of the OSR then Tower of the Stargazer is likely to be a noteworthy piece, if only because of the year that it came out (2010) and because of its explicit reaffirmation of OSR Principles. It is unfortunate that other things then gold were also dredged up from the depths of time. If Stargazer was  once a ramp that allowed us to reach the Stars I say we have reached those Stars, to soar for all eternity and now we have no more need for the ramp. Let old relics be cast into the darkness where they belong.
There can be no room for clemency in this bright new future of the OSR. For all its merits, for all its undeniably good features, I cannot recommend it. The sentence is death.
5 out of 10.
UPDATE: Under the new rating, *** stars seems about right. Its not a good introductory scenario, but it is a very good scenario, despite its flaws.
[1] One of my players amusingly killed herself by shrinking, then exploring the fissure in the basement room and then growing to normal size about 5 metres down, wedging herself shut and killing her via suffocation.